The fight for more powerful protections for passenger service agents who face verbal and physical abuse on the job continued through the summer and early fall. Congress considered new regulations in the House and Senate tied to the FAA Reauthorization bills, but those amendments were not part of the bill rushed to a vote in October to keep the agency funded. The FAA Reauthorization bill that includes the Airport Rage language may be brought to the House and Senate floors in the next few weeks.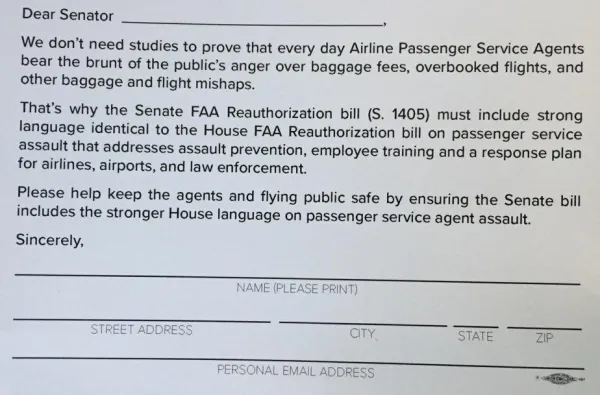 In August, CWA members initiated a postcard campaign and hand-delivered more than 3,000 signed cards to the Senate, demonstrating the strength of our support for clear, effective protections for all passenger service agents. The postcard campaign targeted Senators in the key states of Texas, North Carolina, and Florida. Members of CWA Local 3140 in Florida gathered more than 600 postcards.
We are continuing our efforts as the FAA Reauthorization bills are re-addressed. We're advocating for language in the bill that will include all the key protections and procedures our agents need and deserve. "What we need now is a bill that protects all agents through passenger education about the consequences of abusing airline employees—as well as training, support, and backing from airports, airlines, and law enforcement. We are definitely on our way," says Jo Deutsch, a longtime labor advocate who is helping to lead the charge with CWA. "We'll be asking for the support of all our members in order to get these protections solidified in the coming months."
Remembering Passenger Service Agents Edwards and Hudson
What Workplace Issues Are Most Important to You?
A Hopeful Day for Airport Workers on Capitol Hill