News
Piedmont Union Leaders and Company Managers Meet in NC

CWA Locals in North Carolina held their annual meeting in September. Managers from Piedmont as well as AT&T Mobility, CenturyLink, and American Airlines attended the meeting. Six Piedmont managers, including four department heads, CLT and PHL senior station director Tom Dobroski, and regional director Aylin Albayrak came with the goal of strengthening relationships ahead of bargaining in May 2023.
Local leaders shared stories about pay disparities across stations and the hardship those disparities cause for Piedmont workers, emphasizing that every worker at every station deserves fair wages. Piedmont managers talked about the current state of affairs at the company and pledged to continue productive relationships with workers. 
"I think Piedmont leadership coming to our state meeting was a start in building a stronger working relationship," said Local 3645 President Donielle Prophete. "I've come to these meetings since 2015 and have never seen our management team show up. So the fact that they took the invitation seriously and showed up was a sign that our olive branch is being accepted. Labor and management will not always agree, but mutual respect is imperative."
Other topics discussed at the meeting included American Airlines contract bargaining, ongoing staff shortages, safety issues, mandatory overtime, and the stresses and challenges of working with Piedmont's second level managers. Both managers and union leaders agreed that managers must meet with shop stewards and local officers to make sure all problems are handled more smoothly.
"I think this was the best state meeting we've ever had," said Local 3642 President Tammy Scott. "I look forward to these meetings getting better over time." 
Unfortunately, union leaders lost a competitive game of putt putt after the meeting, but they expect to defeat management in a rematch!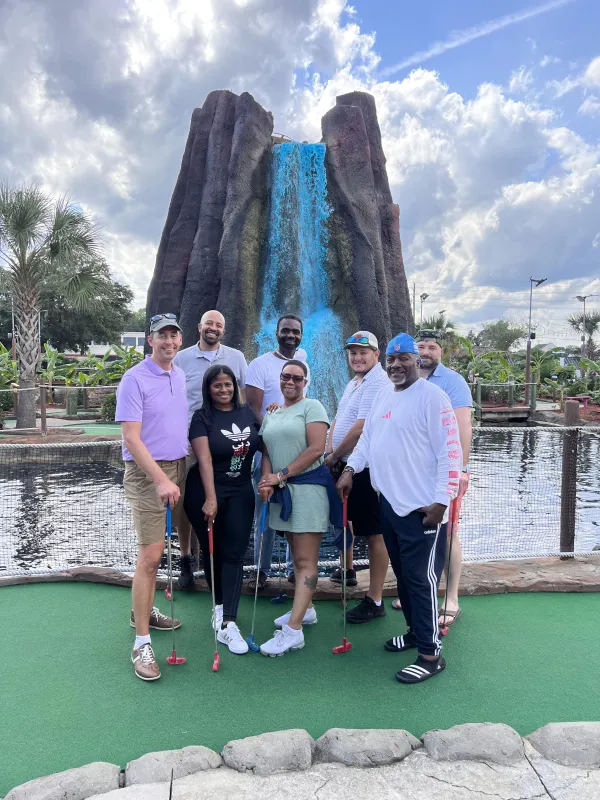 All-In For A Fair Contract At Piedmont
CWA Member Survey Improves FAA Reauthorization Bill
OSHA Finds Piedmont Guilty in the Preventable Death of Passenger Service Agent Courtney Edwards