News
Voting Instructions Are In the Mail!

Voting on the tentative agreement between our union and Piedmont Airlines has begun!
On Monday, October 15, BallotPoint—the independent company that oversees the voting—mailed voting instructions, including a personal identification number (PIN), to members in good standing. You may vote by phone or Internet with your PIN. Watch for an envelope in the mail that looks like this: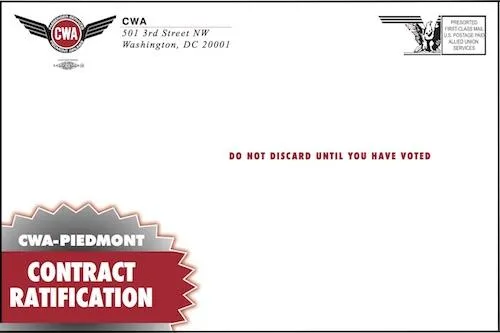 If you have any questions, please contact the Piedmont Voter Hotline by phone at 1-844-VOTE-CWA (1-844-868-3292). The hotline is open MONDAY-FRIDAY during the following times:
9 a.m.-6:30 p.m. (Eastern time)
8 a.m.-5:30 p.m. (Central time)
7 a.m.-4:30 p.m. (Mountain time)
6 a.m.-3:30 p.m. (Pacific time)
If you do not receive a ballot in the mail, you can still vote if you contact your local union before October 30 at 5 p.m. EDT and become a member in good standing. Click here for a list of local unions and their contact information.
For more information about the TA, including a new online tool to help members calculate their wage if the TA is ratified, click here to visit our Member Resources page.
Voting continues from October 15 to November 2, 2018, at 12pm EDT. The results will be announced on the evening of November 2.
If you have questions about the TA, visit PiedmontAgent.org/member-resources or contact your local union. Find contact information for locals here: PiedmontAgent.org/piedmont-airlines/find-your-local.

Be sure to exercise your democratic right as a union member and VOTE in the ratification election as soon as you receive your packet from BallotPoint.
A Hopeful Day for Airport Workers on Capitol Hill
In Loving Memory of Courtney Edwards